--
Introduction
D-D Reef-Pro 900
As hobbyists, with each new aquarium that we own we learn how to identify and improve small details in the design and incorporate these ideas into our next 'perfect system'.
With the D-D Reef-Pro Aquarium we have taken decades of continuous improvements and incorporated them into our own version of the 'perfect system', affordable and suitable for both beginners or advanced aquarists.
The flexible design provides an easy to use robust system that can be tailored to suit even the most demanding aquarist and includes all of the essential features required for keeping a successful aquarium.
Aquarium



Crystal clear, braceless aquarium with full polished edges to give an unimpeded view of your own personal reef.


Balanced width to height ratio to enhance viewing, aquascaping and ease of coral placement.


Unique 'Invisible weir box' design in black glass which almost disappears into the back of the aquarium.


Multi-stage weir design provides a high turnover rate in the tank whilst minimising drain down levels in a power loss situation.


Special "Ultra-Flow" weir comb allows 30-50% more water through, so that larger flow rates can be used.


Twin overflow pipes offer safe, silent operation.


Dry Box built into weir section to hide and pass through any pump and lighting cables.


Perfectly matched for use with the D-D Slimline lighting bracket and AquaIllumination lighting.


Cabinet



Sleek, extra tall cabinet that offers the perfect viewing height for the aquarium.


Modern, heavy duty cabinet construction with high quality finish to compliment the home environment.


Extra height internal space for installation and maintenance of equipment.


Cabinet supplied pre-assembled as standard.


Removable quick release, bi-folding door to offer improved access for maintenance.


Lacquer coated, fully adjustable, soft close hinges.


Adjustable feet to allow correct levelling of the aquarium on uneven floors.


Good ventilation incorporated into the chiller and sump areas.


Separate chiller section with storage shelf included on larger models.


Sump



Twin filter socks for super fine prefiltration of the water. (1)


Filter sock silencing to remove any annoying trickle. (1)


Large skimmer / equipment section. (2)


Refugium section for caulerpa bed or for growing coral frags. (3)


Pump chamber. (4)


Large top-up reservoir. (5)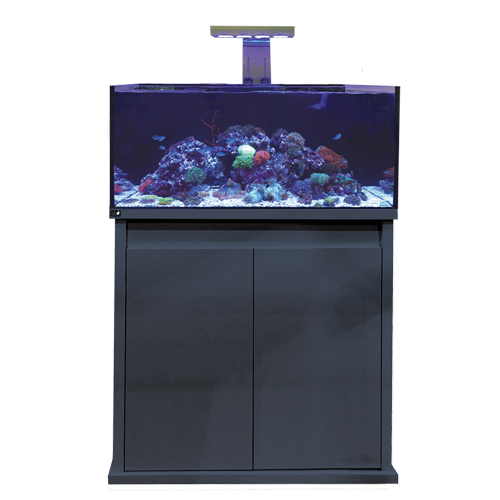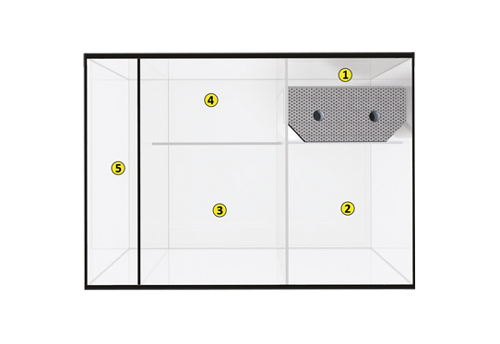 3D Computer Generated Images of RPA1200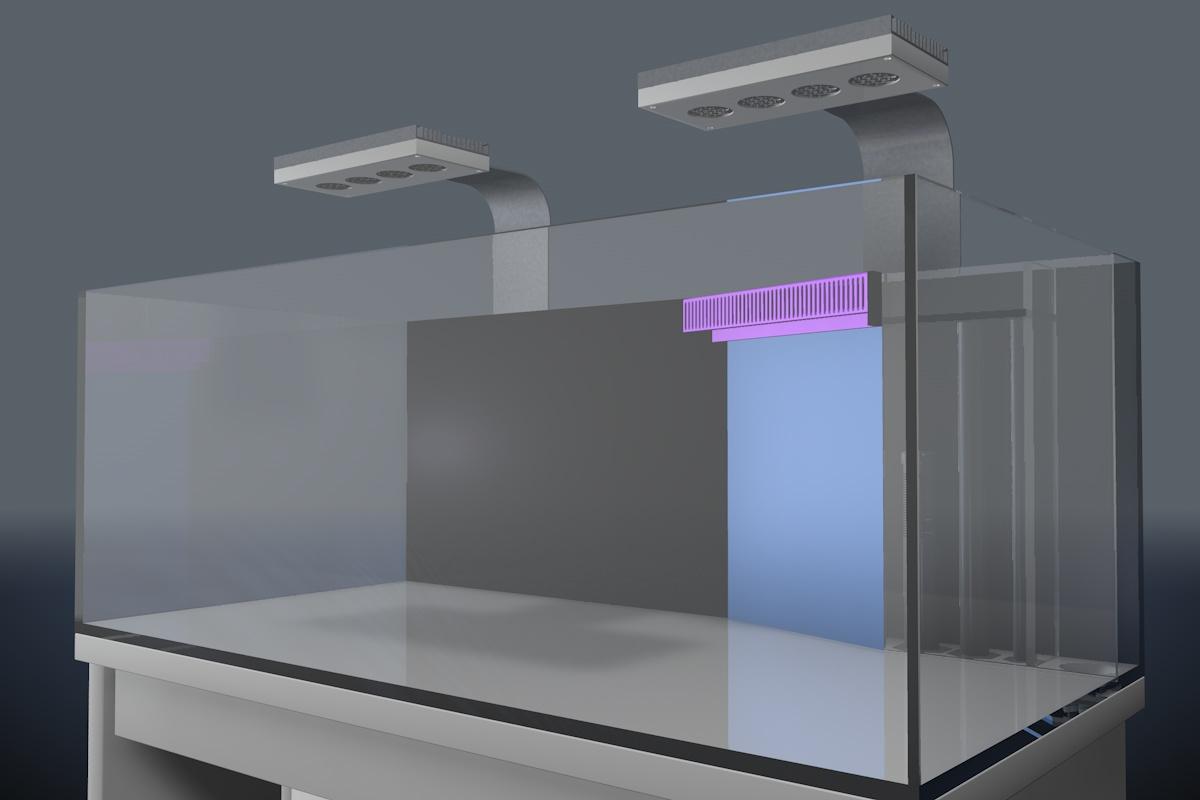 Braceless aquarium design from crystal clear, low iron high clarity glass.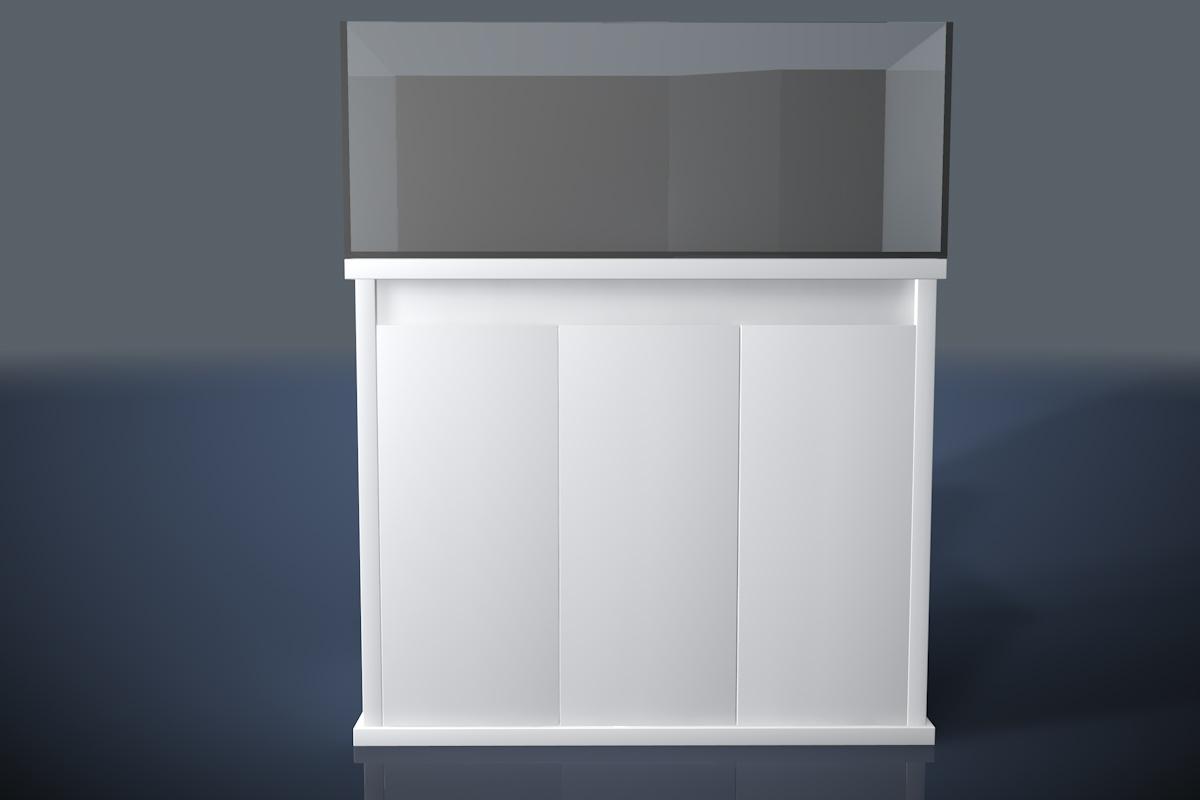 Extra tall cabinet to perfectly balance the aspect ratio of the aquarium.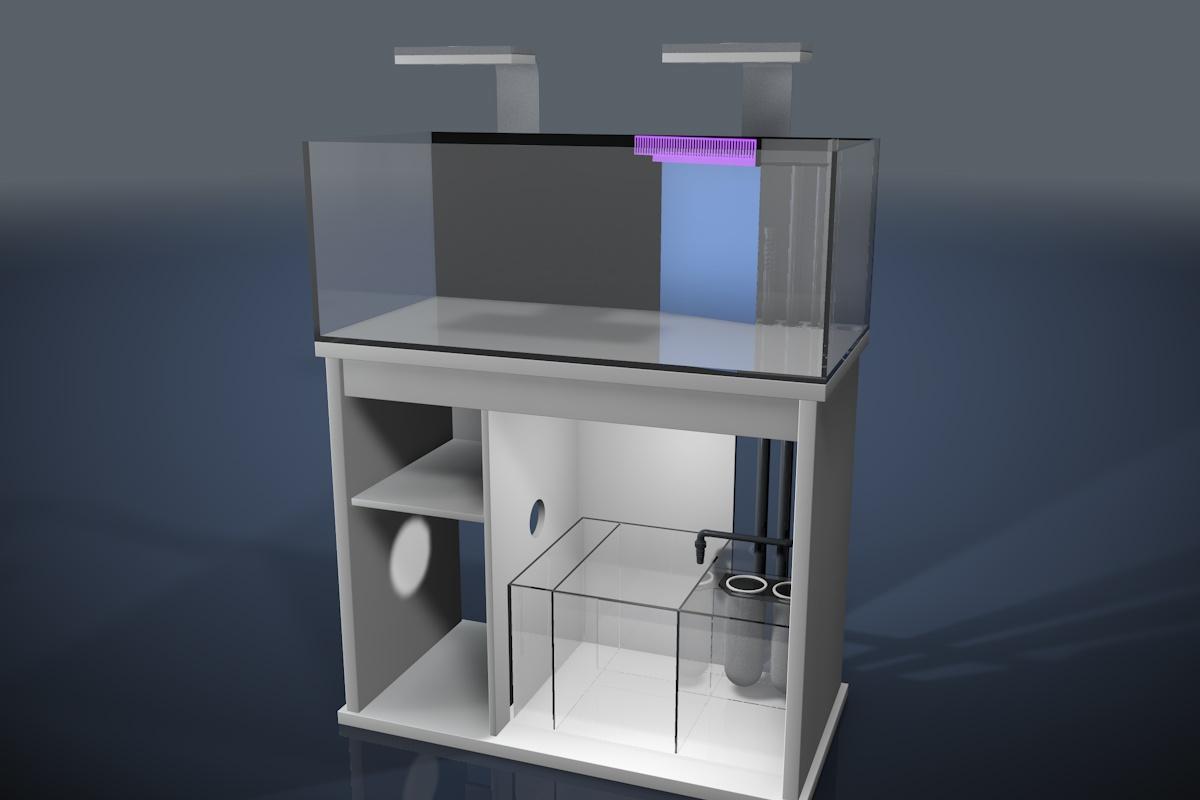 There are as many ideas about sump design as there are hobbyists.
Constructed from crystal clear, low iron high clarity glass, the aquarium features a braceless design, producing a clean and modern display with easy access for maintainance.
By designing the tank to be wider than it is tall we create a more balanced aspect ratio which greatly enhances the viewing experience, allowing easier and more natural aquascaping and coral placement.
An internal weir box can become an unattractive focal point in any aquarium, dictating aquascaping and interupting flow patterns inside the tank.
With this in mind the 'invisible weir box' of the PRO-Reef models has been carefully designed to minimise intrusion into the aquarium whilst exceeding the functionality found in most aquariums.
The Twin pipe overflow system allows almost silent running whilst the use of the D-D UltraFlow weir comb allows the maximum amount of waterflow without raising the water height in the aquarium.
More details on UltraFlow are provided further down this page.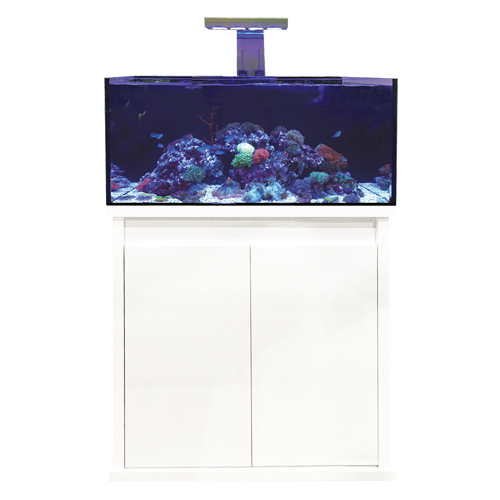 The PRO-Reef cabinet is designed to be extra tall to perfectly balance the aspect ratio of the aquarium and is built for D-D in the U.K to ensure a consistent high quality. 
The top, bottom and main structural uprights of the cabinet are made of 36mm waterproof board, making it extremely strong and rigid with excellent load bearing properties, giving the impression of a piece of furniture rather than just a simple tank cabinet.
The 1200 and 1500 models incorporate a separate storage or chiller section with an adjustable shelf.
The extra internal height inside the cabinet provides good headroom for use of taller equipment and benefits ease of maintainance. Access is further improved by incorporating removable quick release. double folding doors.
When installing any aquarium it is of the upmost importance to provide a level base, unlevelled cabinets can add stress the glass and can result in an uneven water level in the aquarium. The D-D aquarium cabinet design includes heavy duty adjustable feet allowing for full levelling of the cabinet and aquarium.
RPA1200 model shown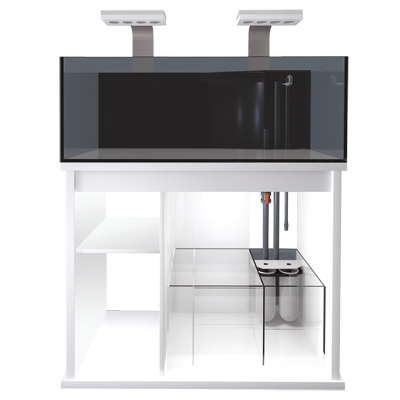 There are as many ideas about sump design as there are hobbyists.
D-D have many decades of experience in designing, building and running large successful aquariums and have combined this knowledge to produce what we believe is the perfect simple sump layout for the space available.
The ultra quiet twin pipe weir system is further refined by the first section of the sump, resulting in a silent water return with no splashing or gurgling.
The water then overflows into a twin filter socks section which incorporates a diffused silencer plate to silence any water noise. From there the filtered water flows Into two large equipment compartments. These chambers can both hold equipment such as skimmers, media reactors, calcium reactors etc or you can use one chamber as a refugium with caulerpa/cheato.
Here again there is flexibility to alternate these sections for those who prefer to skim before or skim after the refugium. The final section is a generous sized return pump compartment which sits beside the integrated water top off reservoir located to the side of the sump
Standard Reef-Pro Sump
Reef-Pro Sump for Use with ClariSea Fleece Filter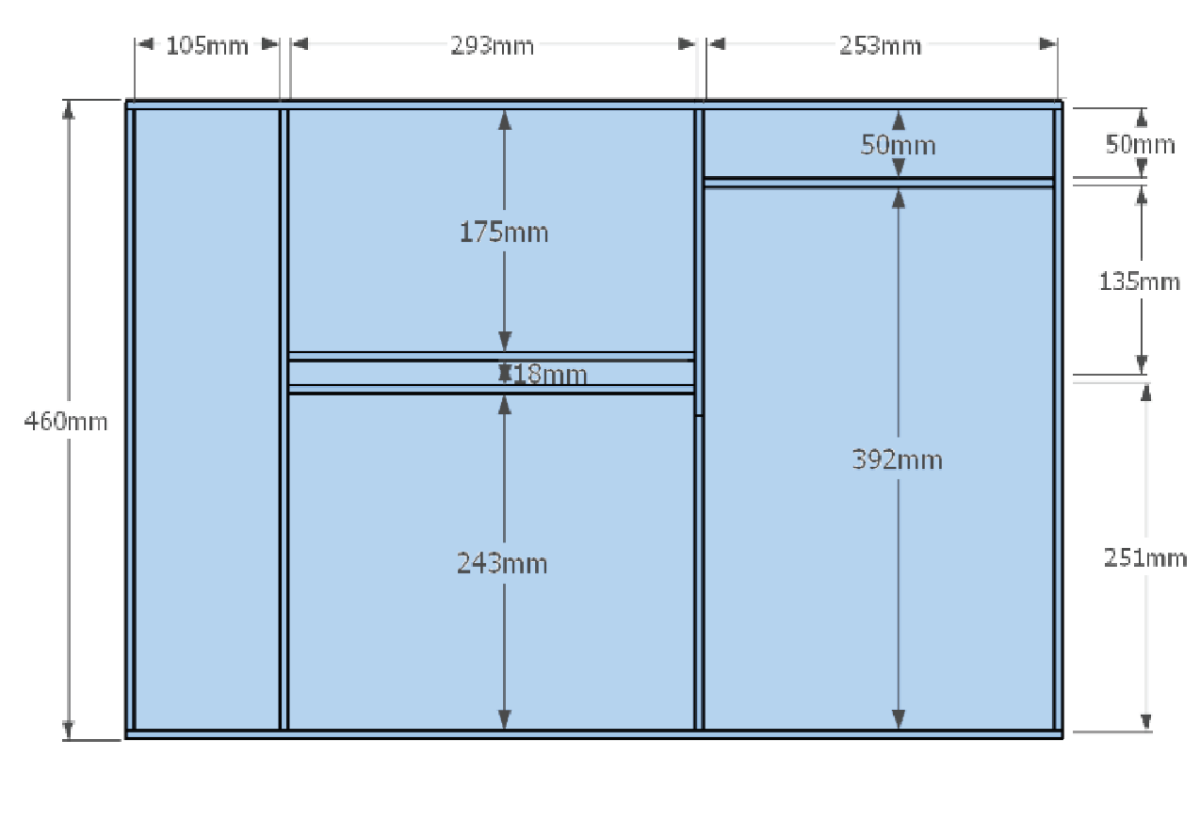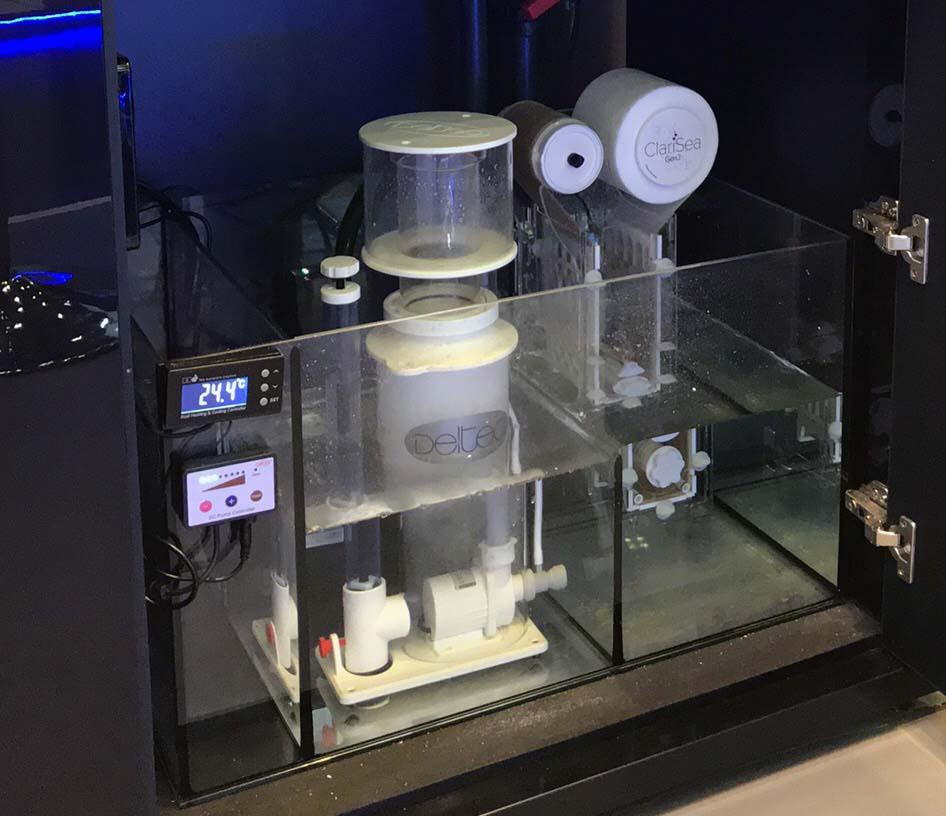 | | WATER VOLUME | DIMENSIONS | GLASS THICKNESS |
| --- | --- | --- | --- |
| SYSTEM | 290 litres | 90 x 60 x 148 cm | |
| TANK | 225 litres | 90 x 60 x 46 cm | 12 mm |
| SUMP | 65 litres | 67L x 46W x 38Hcm | 6 mm |
| CABINET | | 90 x 60 x 102 cm | |
| PIPEWORK | 2 x 32MM STANDPIPES | 1 x 20MM RETURN | |
Standard Cabinet Finishes
There are currently 6 standard colours available for the cabinet however we are constantly looking for new finishes to add to the range.
We recommend that you return regularly to the site to see the latest options.
Images taken at Interzoo in Germany.